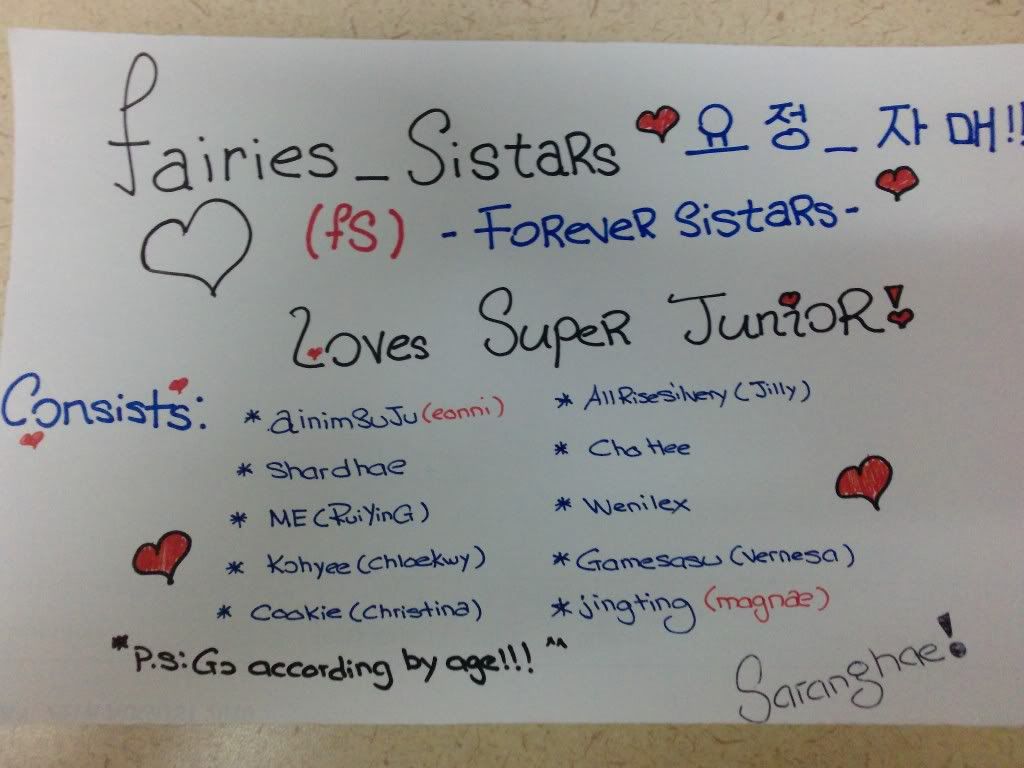 Fairies_Sistar!요정... It's my group name consists another 9 chingu. They are my dongsaeng and chingu. I am the eonni, Ainimsuju..cos im the eldest. How we create this group? Hmm..it's start from RuiYing. She work hard to make this group become reality. What made me happy is because our total members are 10 people and we are so close to our fav idol, Super Junior.
Hahahaha...I'm happy.

Fairies_Sistars!요정

does have the same or close meaning to

E.L.F (EverLastingFriends)

and we promise we will be everlasting friends too.
Our members are Me (Ainimsuju), Shardhae who also same age with but she's 2 months younger than me, Ruiying the group creater, KohYee who really love Wookie, Christina a.k.a Kuri who is Eeteuk biased, Jilly or AllRiseSilvery, ChoHee our Korean chingu, Wenilex the queen of kiss (hehehe), Gamesasu formerly known as KyuMiinah..she is Kyuhyun biased and our dearest Magnae, Jinting.
All of us are happening especially when me, Wenilex, RuiYing & Christina a.k.a Kuri / cookie_forever. Know why? because our dongsaeng, Wenilex & Kuri are truly crazy dongsaeng..hahaha.
Im so happy to have them in my life. Knowing them really change my life. I hope our friendship will be last forever just like

Ever Lasting Friends.
Girls...I love you all so much.. Saranghaeyo!!